⭐⭐⭐⭐⭐ 45,000+ Customers
The Secret to Hangover-Free Holidays
Fruit. Tannin. Body. Spice. No alcohol. Proxies make life more exciting—any night of the week.
Shop Now
⭐⭐⭐⭐⭐ 4.9/5
Build-A-Box
Choose six of one flavor, or choose any combination of six bottles. Red, white, rosé, and sparkling—the choice is yours.
Customize now
WTF ARE PROXIES?
A new form of wine alternative—not dealcoholized wine, but layered blends of fruit, teas, spices, and bitters, designed to pair with food and be enjoyed in your finest stemware.
Learn More
Meet the hangover-free wine club
Six of our newest bottles, shipped to you four times a year. From exclusive seasonal releases, to chef and sommelier collaborations.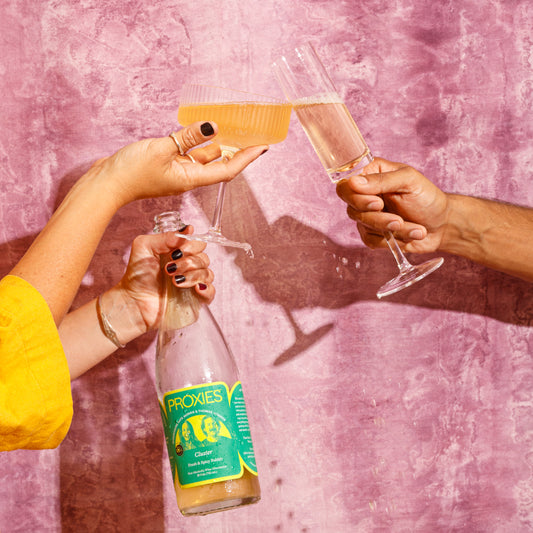 Over 300,000 Bottles Sold
Collaborations
The spirit of collaboration is built into our DNA.
We are curious, experimental and creative, and so are our friends, like star chefs Beverly Kim & Johnny Clark, who collaborated with us on our April release.
Learn more
WHAT THEY'RE SAYING
"When I find myself wanting the ritual of pouring a cold beverage into fancy stemware, I turn to Proxies."
"Just as special as wine."

"My social life has been reawakened with every pour."
"The flavor, body, and acidity of today's trendiest wines."