André Hueston Mack
For our second collaboration, we teamed up with star sommelier, restaurateur, and winemaker, André Hueston Mack.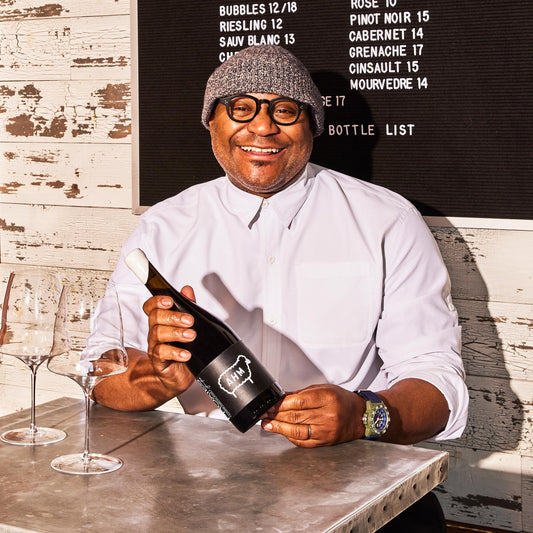 A Note FromAndré Hueston Mack
I think a lot of times people forget that being a sommelier encompasses all beverages, not just wine. When I was at Per Se in 2004, we wanted to be able to offer our non-drinking guests a similar experience to our wine pairing, and thus came up with the first fine dining non-alcoholic pairing for each course. Our process to create this experience was pretty rudimentary as we cobbled together teas, tonics, sodas, and non-alcoholic wine to make different conceptions. I could only dream that something like Proxies would come along and totally change this undertaking. I'm most impressed by the diversity between the different bottles, which all offer dynamic flavors, layered textures, and stunning nuances to manifest a similar experience to drinking wine. 
For this collaboration, I drew upon the home of the second chapter of my career in wine—the Willamette Valley. After beginning to make my own wine I gravitated to this region in Oregon that offers an American echo of the Burgundian wines that pair so seamlessly with most cuisines—high or low brow. I wanted to feature Pinot Noir juice as it is the red grape that defines the Willamette Valley. To complement, I chose to use the marionberry, a cultivar of blackberries bred in Oregon. I sincerely hope this blend transports you to the home of my winery, Maison Noir Wines.
About AHM
Drawing inspiration from André Hueston Mack's Maison Noir Wines from Oregon's Willamette Valley, this medium-bodied red blends marionberries—an Oregon exclusive known as "the king of blackberries"—, pinot noir grapes, tart cherries, rhubarb, and cranberry for a fresh, juicy base balanced by earthy pu-erh tea and kola nut. Willamette hops add an extra dose of Oregonian flavor, bringing a hint of pepper and spice to the complex, layered finish.
Club Release 2022.5
Proxies x André Hueston Mack
Don't miss out!
Join the club to receive our next exclusive collaboration
Join here