Dominique Crenn
In our fourth collaboration, Proxies teamed up with world-renowned chef Dominique Crenn.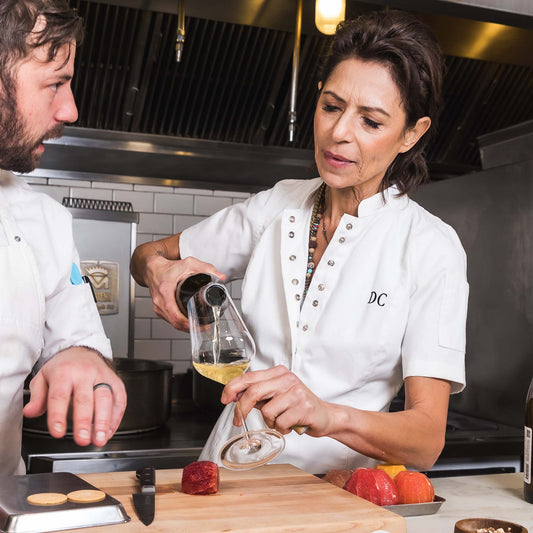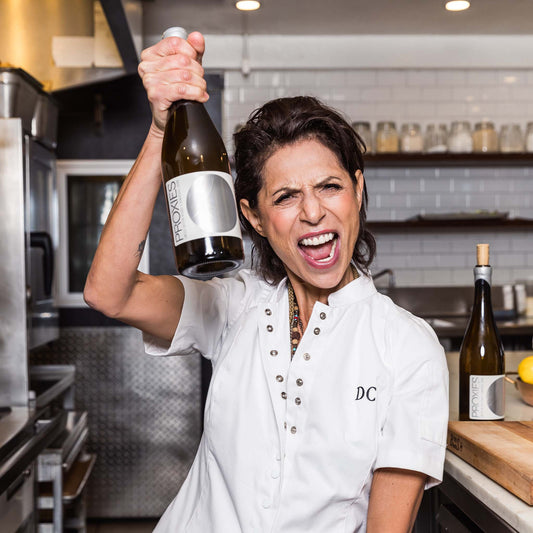 A NOTE FROM DOMINIQUE CRENN
Growing up in France, wine was a central part of the dining experience. Whether at home with your family, or in a restaurant with friends, almost every meal was accompanied by wine.
Proxies has done something beautiful by creating an alcohol-free alternative that is as thoughtful as wine, offering the opportunity to enhance a meal, stimulate discussion, and enable shared moments, for those who aren't drinking.
When I first tasted Zephyr, I was blown away by the layers of flavor and complexity—not to mention the beautiful color… all without alcohol! When I'm cooking at Atelier Crenn, dining out, or even at home, swapping a glass of wine for Proxies is a wonderful way to stimulate the palate while keeping the mind sharp. For my own blend, I wanted to design something for anyone at the table. Crafting Pétanque was a truly delightful experience. I wanted to capture the culture and diversity of my new home in California, so we explored different flavors, herbs and textural components that I use in the kitchen to express creativity and our community in the glass. Santé!
ABOUT DOMINQUE CRENN
Dominique Crenn is the chef and owner of Atelier Crenn in San Francisco—and the first and only female chef in the U.S. to have earned three Michelin stars. Also among her accolades: A James Beard Foundation Award and multiple nods from World's 50 Best Restaurants. 
An activist and storyteller, Chef Crenn offers a unique perspective on food and hospitality. We're as impressed by her dishes—including ingredients sourced from her Sonoma garden, Bleu Belle Farm—as we are by the poems that make up the Atelier's daily menus. In this quest for harmony, Chef Crenn dropped meat from the menu, favoring a more sustainable pescatarian pantry. 
If you've seen Dominique on Iron Chef, you'll agree that she is delightfully unaffected by the highest of praise. She takes food seriously, but approaches everything else with an infectious sense of whimsy. 
If you can't nab a seat at Atelier Crenn or Bar Crenn, just open a bottle of Pétanque, cue up Dominique's episode of Chef's Table, and settle in for an evening of inspiration and indulgence.
Club Release 2023.01
Proxies x Dominique Crenn
Don't miss out!
Join the club to receive our next exclusive collaboration
Join here