Miguel de Leon
In our third collaboration, Proxies teamed up with award-winning sommelier Miguel de Leon.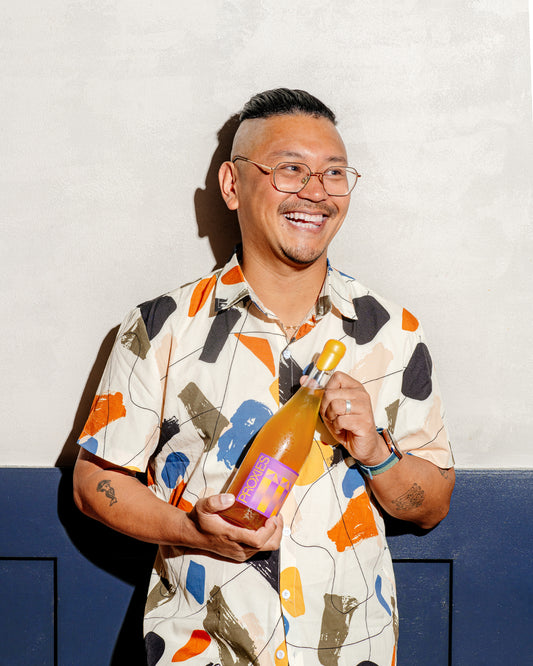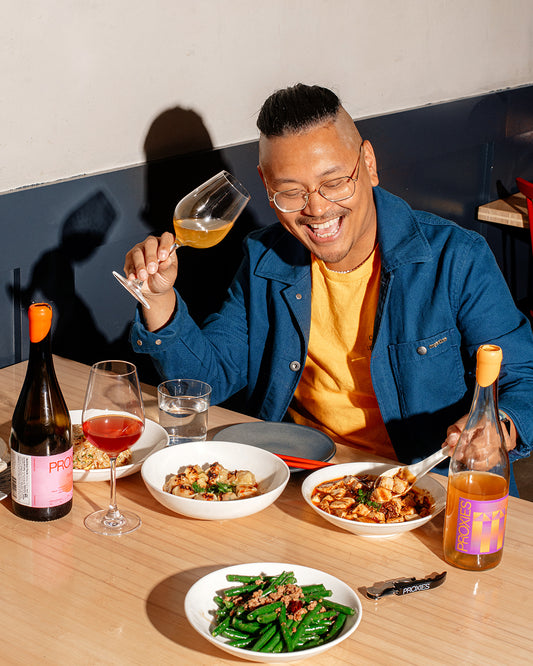 Meet Sommelier Miguel de Leon
I want to engage restaurant spaces in the bigger non-alcoholic conversation and really challenge them to think about what the full spectrum of hospitality looks like. A considered non-alcoholic beverage program is one of the ways we can extend that warmth and generosity, by offering something that is more thoughtful, more enjoyable, and frankly, more grown-up in terms of palate and experience. 
 I hope my background, growing up culturally Filipino, offers a new take on global cuisine. This is why I have chosen particular flavors to introduce with Proxies. I want to show that the bounty of flavors I've considered as nostalgic and relating to my original 'home' are actually flavors that transcend distance—tropical and stone fruit, over-steeped tea, fragrant herbs that can grow on just about any windowsill—and prove that we have many things in common that make us happy.
About Vinta
Vinta is named for the small vessels found on the shores of the Philippines, whose bright, patterned sails are depicted on the label. Orange in color, texture, and style, Vinta draws inspiration from the golden glow, intense aromatics and tannic structure of skin contact wines. 
Vinta is a memory of Miguel's Filipino childhood, marrying tropical fruit with citrus, tea and pandan. Riesling offers acidity, while a duo of black teas—Nepal and Jasmine—lend grippy tannins and a balancing bitter finish.
About Miguel de Leon
Born in Manila and raised in California, Miguel grew up surrounded by food and flavor. He began his career at the iconic Chez Panisse, followed by a stint at Momofuku in New York. Currently, Miguel heads up the beverage program at Pinch Chinese in Soho, New York, where he champions all sorts of delicious drinks—alcoholic and otherwise. 
As his appetite developed to include advocacy and politics in the wine world, Miguel swept up the inaugural Michelin Guide Sommelier of the Year Award in 2021, a James Beard Foundation Media Award in 2022, and several illustrious writing bylines along the way. At home with both pen and corkscrew, Miguel's thoughtful approach to the drinks world has earned him a cult following. He was chosen for Imbibe Magazine's 75 People Working to Build a Better Drinks World and Wine Enthusiast's Future 40.
Club Release 2022.10
Proxies x Miguel de Leon
Don't miss out!
Join the club to receive our next exclusive collaboration
Join here