Kate Norris & Thomas Monroe
In our sixth collaboration, Proxies teamed up with winemakers Kate Norris and Thomas Monroe of Division Winemaking Company in Portland, Oregon.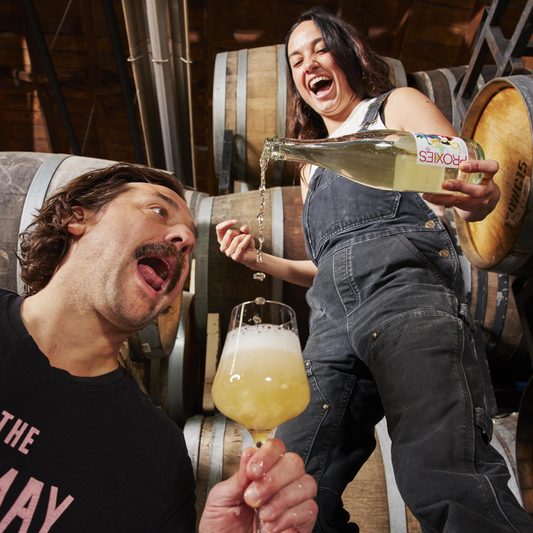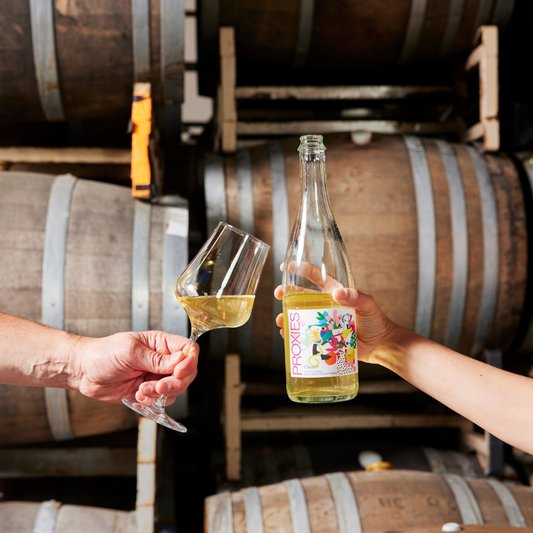 A Note From Winemakers Kate Norris & Thomas Monroe
Having both spent many years now in the wine industry, the need for life balance has become increasingly important—not only for us personally, but for our friends in the beverage community and beyond. 
It is exciting to have some of the aspects we love so much about wine—the play and intrigue of flavor, acid and texture—represented in zero proof through Proxies, and an amazing and positive challenge and opportunity to be able to work on this project together, through the lens of our palates and style. 
Having that option to reach for a beverage that feels celebratory, thoughtful, artisanal and special while also having no alcohol feels not only inclusive, but also a way to help bring balance into our sphere. Something for all to enjoy at any time, together.
Love Kate & Thomas
About Kate and Thomas
Changemakers and tastemakers Kate and Tom are part of the new guard of the modern American wine canon. While they learned the ancient art of oenology on Kate's family's vineyard in the Loire, France, they've eschewed many old world constraints. Their philosophy is simple: drink good things with good people. 
This extends to non-alcoholic drinks too. Kate and Tom believe non-alc will form the basis of inclusivity and help shape the future of drinking. Of course, we wholeheartedly agree.
Don't miss out!
Join the club to receive our next exclusive collaboration
Join here